Memorial City Mall

Years active
1966-Present
Definition
Shopping mall
Located
U. S. A.
Arcades housed
Over a dozen (as of 2016)
Background
Edit
Memorial City Mall is a shopping mall in Memorial City, Houston, Texas, United States, at the intersection of Interstate 10/U.S. Route 90 and Gessner Road (which its address was formerly known as 900 Gessner Road, although it is now known as 303 Memorial City). Constructed in the early 1960s, the mall has since grown to be one of the city's more popular malls[1], mostly due to a large renovation project that took place in the early 2000s.
The Mall has hosted many arcades over the years.
First mall
Edit
The Memorial City Mall completed in 1966 was a very middle-market shopping venue, with Sears, a Walgreen Drug, Piccadilly Cafeteria and an S.H. Kress variety / 5 and 10 store. A single-screen cinema, the Memorial Theater, was also connected with the interior mallway. It opened in June 1962. A Montgomery Ward was added, as a second anchor store, in 1972. Later expansion with a Foley's and Battelstein's occurred in 1974. These were located in a new East Wing. Lord and Taylor joined the mall, as a west addition, in 1977. The mall now housed 1.3 million leasable square feet.
Town and Country rivalry
Edit
Town and Country Mall was dedicated in 1983. Located only a mile west of Memorial City Mall on Interstate 10/U.S. Route 90 and Beltway 8, it featured more upscale stores, such as Neiman Marcus, Marshall Field and Company and Saks Fifth Avenue. Shoppers preferred Town & Country's retail mix and, for a time, it was considered the more fashion-conscious mall of the two.
Memorial City attempted to regain market share by renovating with the installation of Fame City[2], a multi-faceted family entertainment complex, complete with an indoor mini golf course, kiddie ride area, video game arcade, teen disco, roller skating rink and new 8-screen, Loew's multiplex cinema. These attractions opened during 1989. Moreover, the mall hosted specialty conventions for items such as model trains.
However, Fame City was not successful and the retail hub continued to decline. Frost Brothers, which had been taken over the Battelstein's store in 1980, closed around 1986. Lord and Taylor was shuttered and replaced with a Mervyn's in 1989. In 1997, Neiman Marcus announced it was shutting down its Town and Country Mall location in favor of moving to Memorial City[3].
The younger rival suffered, as well, as the construction of the new Sam Houston Tollway made visibility and access difficult. That, in combination with the effect of the 1980s oil glut on Houston, was the beginning of the end for Town and Country Mall as it lost popularity with shoppers. The interior had become dated and available leasing space was small and crowded. Town and Country lost several tenants, including anchors Dillard's and JCPenney to Memorial City before closing in 2004 and was demolished shortly thereafter.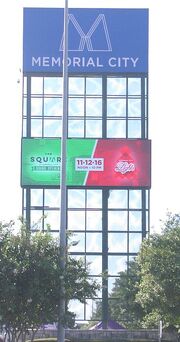 By the early 2000s, the area surrounding Memorial City Mall had returned to prosperity thanks to a $500 million (U. S.)
[4]
renovation project that took place from 2001 to 2005. During the period, over 100 new retail shops were added to the complex, including five new anchor stores.
Shortly after the project started, in November 2001, the original, one-level Foley's store was replaced with a larger, two level store. Lord and Taylor, which had left the mall in 1989, returned with a new two level store in March 2002. The eight-screen movie theater was closed in 2002 after its owner, Trammell Crow Co., filed for bankruptcy in early 2001[5].
The old Foley's was demolished, with an extended east concourse and a new Dillard's taking its place in October 2003. Two parking garages were constructed as well. The expansion and renovation attracted stores from other areas of the city. Target demolished the old Montgomery Ward (vacated in January 2001) and replaced it with a newly constructed Target in October 2003. With the goal of "creating a total family experience", large-scale renovation of the property continued through 2004 with the construction of a large 2,600 sq. ft. play area for children and a NHL-standard sized ice rink.
A new 16-screen Cinemark movie theater with stadium seating opened adjacent to Sears in May 2007. This project returns a movie theater to Memorial City Mall since the previous Loews Theater closed in 2002.
In 2005, Lord and Taylor closed its anchor space. Their store space became a JCPenney in February 2006. Mervyn's left the Texas area in 2006 and was demolished soon after. During 2009 and 2010, a skyway was constructed across Gessner Road connecting Memorial City to a 267-room Westin hotel being built adjacent to the Memorial Hermann medical center; this Westin hotel opened in March 2011 [6].
Known arcades
Edit
The arcades at this mall ran the entire gamut, from being small (Quiptar's II and Memorial Theater each having less than 15 games) to huge (Quiptar's, Celebrity Cafe and Exhilarama each had dozens of machines), along with running on quarters, tokens, or a pay by the hour package, depending on the arcade.
Games
some other arcade that was in the Games, Games, Games area that closed in the 1990s (name currently unknown)
References
Edit
Ad blocker interference detected!
Wikia is a free-to-use site that makes money from advertising. We have a modified experience for viewers using ad blockers

Wikia is not accessible if you've made further modifications. Remove the custom ad blocker rule(s) and the page will load as expected.